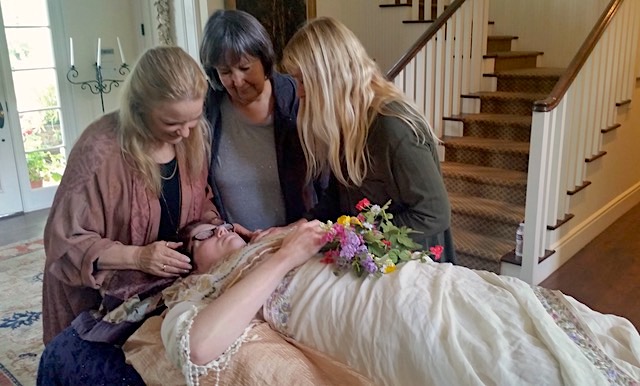 The Art of Death Midwifery is a comprehensive certificate training for
death doulas, professional and non-professional end-of-life caregivers and those seeking to prepare for a conscious, peaceful transition held via webinar or in-person in Los Angeles.

"This training went way beyond my best expectations. The very full schedule is presented with a relaxed, loving, unhurried attitude in a gorgeous environment. Anyone currently serving or who is drawn to service in end-of-life will highly benefit from The Art of Death Midwifery."  - Callan Edwards
The Art of Death Midwifery Courses


Our training is a
four-part workshop series

over four separate weekends:




Classes can be taken individually or register for the complete program for a $200 savings.


Graduates of Levels I & II receive a certificate for Death Doula.
Graduates of the complete program receive certificates for both Death Doula and Death Midwife.


For curriculum details and to register for the individual courses please click the images below.
 We look forward to sharing this sacred journey with you.
"I learned so much more in these workshops than 14 years in the traditional funeral industry.
That is just what it was…industry. This is sacred work." – Josette Astaria Sheets

If you would like to discuss further payment plan options, please contact Olivia at

[email protected]

.
Our cancellation policy is as follows: 
Students who cancel 

at least 30 days before the start of the workshop may transfer registration to a future class or

 receive a full refund 

(less $150 fees and administration cost).

If student is unable to attend a workshop due to unavoidable circumstances and advance notice of less than 14 days is given, student may transfer to a future class with a fee of $200. If student is unable to transfer registration, a refund of 50% of the workshop fee will be returned to student.

If student is unable to give advance notice and does not show for 1st day of class or chooses to leave after the commencement of day one, the workshop fee is nonrefundable.
The Role of the Death Midwife


Dorothy requested her friends care for her body after death. She wanted to have a 3-day vigil at home and for everyone to dance at her funeral celebration.


This short film, TAKE ME HOME, illustrates Death Midwife, Olivia Bareham midwifing Dorothy through her dying journey and honoring her final wishes.


"This training far surpassed my expectations – it is deeply spiritual, while honoring all belief systems and the material is masterfully organized and presented. I feel prepared and peaceful about my own death now and ready to help guide others. Incredible value!" – Sherida Kasteler